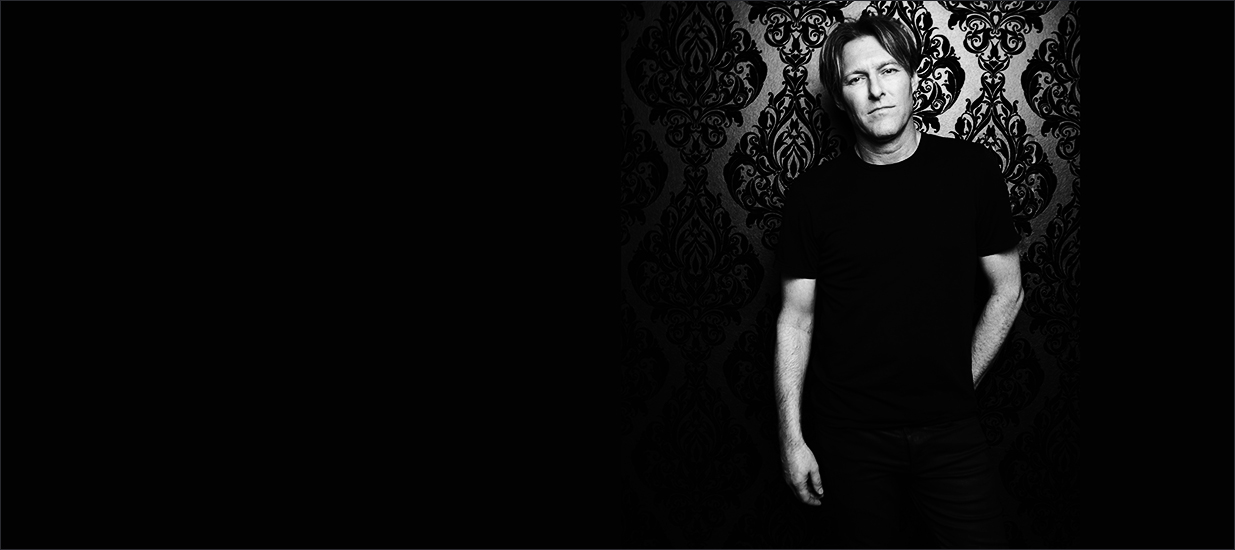 Long before he cemented himself as a highly sought-after composer, guitarist, songwriter, and record producer, Tyler Bates resided in a haunted, rural-Illinois, log cabin ranch previously owned by none other than Al Capone. Between two exorcisms on the property and an "odd" job unwittingly digging graves, the multi-talented musician developed an expansive imagination during his formative years.
"Any time I had to do chores outside at night, I'd run as fast as I could to seek refuge inside a haunted house," he laughs. "The experience definitely ignited my imagination for creative places."
With an intrinsic understanding of an environment's power, perhaps it's no coincidence that Bates has become not only an artisan at architecting music for film, television, and video games, but an in-demand multi-instrumentalist, writer, and producer. Through the nineties, he logged 1,200-plus live shows in his bands, including Pet, and released on Igloo/Atlantic records — under the guidance of Tori Amos — before segueing into the world of film score. He started to make waves by creating the menacing audio backdrop for Zack Snyder's popular Dawn of the Dead reboot in 2004, followed by his soundtrack for the filmmaker's 300, which remains one of the 21st century's biggest-selling score albums. His oeuvre expanded to include Watchmen and Sucker Punch, both helmed by Snyder, several collaborations with Rob Zombie — including The Devil's Rejects, Halloween, and Halloween II — and Killer Joe, directed by Academy Award® winner William Friedkin. To date, he has composed music for 10 feature films that have opened #1 at the box office, with more surely to come.
Most recently for Tyler was the highly anticipated 2019 summer blockbuster Fast & Furious Presents: Hobbs & Shaw, starring Dwayne Johnson & Jason Statham. Next on the horizon for Bates includes projects such as the upcoming animated series Primal on Cartoon Network and the second season of The Purge on USA Network.
Throughout 2018 and 2019, Tyler's music has continued to be part of exciting projects including movies such as John Wick: Chapter 3, Deadpool 2, and The Spy Who Dumped Me and TV series like The Purge and The Punisher Season 2. Recently, he also collaborated with producer Mike Elizondo on the Dark Nights MetalSoundtrack for the new graphic novel of the same name by DC Comics, recording artists like Brann Dailor from Mastodon, Chino Moreno from Deftones, and Alexis Krauss from Sleigh Bells, to name a few.
You could say his infinite imagination continues working overtime. Having composed the music for Cirque Du Soleil's first live action thriller entitled R.U.N., Tyler continues to push the boundaries of music. R.U.N. premieres on October 24th, 2019 at the Luxor Hotel and Casino in Las Vegas, NV, and is the newest show exploring the world of stunts: combining an unprecedented sensory experience with state-of-the-art special effects, human performance, and cutting-edge technology.
Tyler is always seeking what he refers to as "a music moment."
"It's a musical event that we as a duo or a group experience together," he elaborates. "When I meet a director, producer, or artist in my studio - based on our conversation - I'll often play guitar or create music based solely on that initial exchange of ideas or current events. So, before we engage in the formal process of creating music for a movie, TV show, or an artist album, we've already begun a creative conversation that results in actual music as opposed to hypotheticals. It creates excitement. With everything that I do, I try to create a process that is referential to the project we are working on as opposed to pre-existing entities."
By 2017, his vision audibly enhanced two of the most successful franchises in recent memory: Marvel's Guardians of the Galaxy and John Wick. In addition to composing for Guardians of the Galaxy Vol. 1 & Vol. 2 and winning a BMI Film Music Award for the first, he co-wrote and produced a fan favorite "disco version" of "Guardians Inferno" (featuring David Hasselhoff), performed the second installment's score at the 2017 MOSMA Festival in Spain, and crafted the music for the Disney California Adventure attraction Guardians of the Galaxy – Mission Breakout!
"How insane is that?" he smiles, "I never thought I'd be writing music for an attraction at Disneyland. It's entirely different than working on a film, television show, or even a video game. It was another great challenge and learning experience that I am thankful to have had the opportunity to do."
Meanwhile, the John Wick series represents the nexus of his work as a composer, performer, and songwriter. For 2017's John Wick: Chapter 2, Tyler penned the closing credits tune "A Job To Do" alongside legendary Alice In Chains guitarist and vocalist Jerry Cantrell and performed on-screen during the climactic "Rock Opera" sequence, rocking a guitar-viol on stage with Le Castle Vania and Nostalghia. John Wick: Chapter 3 saw him collaborate with Gavin Rossdale from Bush on the end title track "Bullet Holes," which has since cracked the top 20 on Billboard's Mainstream Rock Songs Chart and continues to climb. In addition to "Bullet Holes", Tyler co-produced Bush's upcoming full-length album, due for release in the Fall of 2019 via BMG.
His sonic presence can also be felt across a number of mediums, including television series such as Showtime's Californication, Cartoon Network's Samurai Jack, Audience Network's Kingdom, WGN America's Salem, and more, as well as video games such as Killzone: Shadow Fall, God of War: Ascension, Army of Two 40th Day, Crossfire, and Ubisoft's Far Cry: New Dawn (co-composed with John Swihart). He's also written a theme for his favorite NFL team the Tennessee Titans, and even performed the "Star-Spangled Banner" solo guitar in the rain during a Thanksgiving 2015 game.
2014 saw the birth of a powerful partnership with Marilyn Manson. After meeting on a Californication performance, Bates went on to co-write and produce the 2015 epic, The Pale Emperor. A runaway worldwide success, it crashed the Top 10 of the Billboard Top 200 at #6 and earned widespread critical acclaim with Rolling Stone hailing it as the "#1 Metal Album of 2015." Stepping into the spotlight as the band's lead guitarist, he dedicated over a year to touring in support of the album on the headline Hell Not Hallelujah Tour, an arena run with Slipknot, and various festivals worldwide. In 2017, they once again joined forces in the studio for the follow-up album Heaven Upside Down, with a world tour kicking off in Budapest.
"I make music from the basis of storytelling, narrative, and emotion," he goes on. "What Manson and I create happens on the spot. Playing live really gives me a different experience than being in my studio around the clock. It's fun and fulfilling on the most primal level imaginable. The camaraderie of playing in a rock band and performing on stage is something that I don't get when I'm working alone in my studio. It fuels my fire to get back into the studio and write with a new perspective from having awesome experiences around the world."
He certainly tapped into that fire in 2017. Bates handled the music for the blockbuster Atomic Blonde, starring Academy Award® winner Charlize Theron. For the project, he also produced Health's cover of "Blue Monday" and re-invigorated and revitalized Ministry's "Stigmata" with Manson for key sequences in the film. On the big screen, he can be heard in the critically acclaimed The Belko Experiment as well as The Public and 24 Hours to Live, while his voice permeates Netflix's The Punisher and Season 2 of The Exorcist.
"My heart is in absolutely everything I do," he leaves off. "Whether it's rock or a score, I do my best to always explore new ideas. My primary goal as an artist is to connect with people, understand my collaborators, and hopefully translate that understanding into re-telling an emotion. I'm really excited about the prospect of making more interesting art."