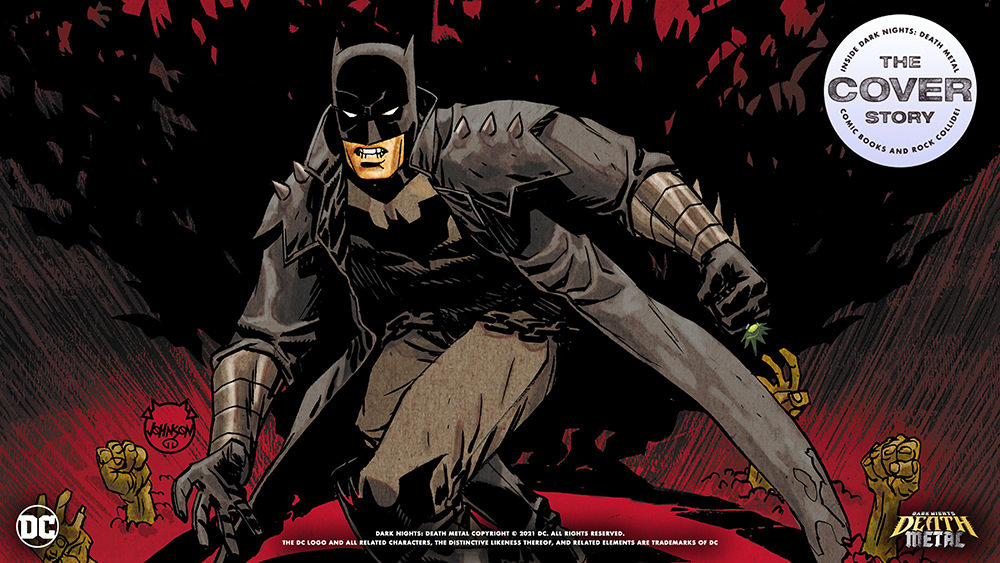 Mosh-Pits and Multiverses: How Comic Books and Rock Music Became the Ultimate Partners in Crime.
Comic book behemoth DC's latest Dark Nights: Death Metal project isn't just the ultimate meeting of Batman and breakdowns. As collaborators Tyler Bates, Andy Biersack, Greg Capullo, Maria Brink and Chelsea Wolfe discuss it's the intertwining of two worlds in which anything is possible ...
Tyler Bates never planned to become Hollywood's go-to guy for comic book movies. When he was young, the man responsible for scoring some of the biggest adaptations of the last decade or so — Watchmen, 300, Guardians Of The Galaxy and Deadpool 2 among them – was only really into the comics put out by KISS.
It seems surprising when considering that Tyler's CV is a nerd's paradise — even movies he's worked on not based on comic books, such as John Wick and Dawn Of The Dead, certainly have a foot in that world. When greeting Kerrang! for this interview, he is wearing a Punisher T‑shirt, a souvenir from the Netflix series which he scored. However, rather than a grand plan on his part, a lot of these accomplishments have been the result of people simply really, really enjoying working with Tyler Bates.
Having started out scoring independent movies while in '90s band Pet, before their implosion, movie work gradually became his main focus. Things only got bigger and bigger. Early collaborations with filmmakers who went on to be colossal – Zack Snyder, James Gunn, David Leitch, Chad Stahelski – led to long-running collaborative relationships.
Visit KERRANG! for the full article.